Read The Poem "WHEN I MET YOU"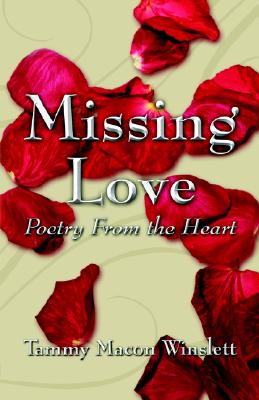 Love Poems - Romantic and love poems for the special someone.
Love Poems and Quotes - A collection of love poems, as well as a free monthly poetry contest.
A free, online love poetry resource providing the famous love poems by the World's most popular Poets.





Missing Love
Poetry From The Heart
By
Tammy J. Winslett
"Missing Love" is a love poetry book By Tammy Macon Winslett. This Poetry Book reflects the emotional thoughts of missing a special person in your life.
These love poems are filled with inspiring words to keep those close to your heart until you can see them again.
Missing Love is filled with romantic poetry, sad poetry, and friendship poetry. Heart felt love poems for todays relationships.
Buy At Publish America
ISBN: 1-4137-4673-X, 111 pages, 5.5 x 8.5
$24.95 For Hard Cover
Also available through Wholesalers and Distributors Ingram, Baker & Taylor and Brodart Co. (1-800-233-8467). Spring Arbor Distributors: One Ingram Blvd. La Vergne, TN 37086-1986 Phone: 800) 395-4340
Fax:615)213-5192





YOU MAKE IT POSSIBLE
When I think of you
So precious and sweet,

I can honsetly say
You're all I need.

When I see the moon
In the late night sky

I search for your face
As it moves on by.

Every minute of the day
I'm thinking of you.

Hoping every moment
Your thinking of me too.

Sometimes I get scared
Not letting it show,

Just longing for the day
When it's you, that I hold.

To give you my heart
Seems so hard to do,

But you make it possible
With the love that's in you.
Love Poems- The Best collection of Beautiful Love Poems, Quotes, Stories and Romantic letters.
Love Poems at WeLovePoems.com - Join WeLovePoems.com today to be part of most romantic community.